scene-stitcher ain't a mistake
durability
Quality fabric, fade-resistant cotton floss, and a frame for fending off oils and dust? Duh.
eco-friendly
Going green can mean spending green, but reducing single-use plastic stays top-of-mind.
flexibility
Custom stitches, ship to a friend (or you), free local pickup... or a gift card? Do you, boo.
Originality
We don't need no stinkin' patterns! Consider this your catch-all for shopping small and original.
Don't DIY! Every 7 x 5" is stitched with premium materials, gently washed, pin mounted to acid-free foam board, and secured in a shadow box frame! 🙌🏽
Original 7 x 5" designs are delivered as printable PDF with actual-size mockup, DMC floss suggestions, and intuitive chart in color and grayscale, plus a photo finish. Also giftable!
Pretty enough for the fridge, mighty enough for the car. 🧲 These 3 x 1.92" die-cut magnets enable fear of commitment. 🤔 Gift to a friend by noting their mailing address in your order.
Must-haves for your vinyl collection. The holographic and matte finishes are both durable thanks to a weather-resistant laminate.
No biggie, here are the smalls. 🧐 Ranging from 2 x 2" to 2.5 x 3.5" (plus frame), pieces out of stock can be preordered with $3 deposit. A great gift or petite yo' self! 🤏🏾
Each on-demand product is made especially for you, so fulfillment via Printful takes a bit longer. Creating with POD reduces overproduction, expands offerings, and saves us a bit of time! Love that for Justin.
Welcome to The Goüd Life. 🌽 These 5.5 x 4" (folded) note cards are printed on 14 pt matte stock with subtle inside border, envelope included (cornfield piano not yet available).
Can we get a suggestion from the audience? Pull up a comfy chair and relinquish your hopes and dreams. Could be… who knows…
Not your mama's cross stitch, however scene-stitcher is a tribute to my late mom's crafty skills, loving legacy, and immigrant spirit. She taught me the fundamentals long ago for my first Tweety cross stitch, and I requested a refresher during what ended up being our last Thanksgiving together.
When I saw black Aida cloth I realized I could mimic film stills and combine cross stitch with my graphic design experience and pop culture obsessions: self-care for me, smiles all around. We kicked things off during the pandemic and can't stop, won't stop, now.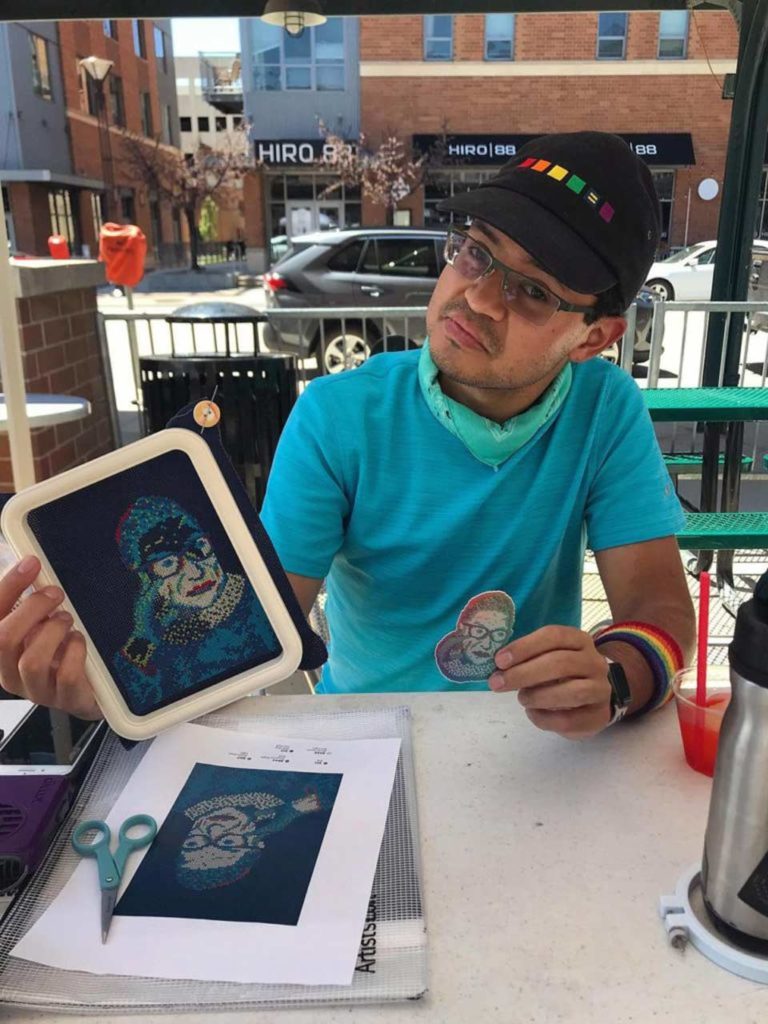 do you fancy an irregular
email + sale?
No worries, this one-man operation doesn't have the time or energy to spam ya too often.
snitches get more stitches